Arts centre and forest school for adults with learning disabilities, based in Cambridge
Creating art, Improving lives
Rowan is a vibrant, independent, registered charity providing an arts centre and forest school for adults with learning disabilities.
Since 1984 we have offered a safe, creative, and enriching environment where the arts are used as a tool to bring people together and tackle social exclusion. We develop the skills and potential of our students while improving their happiness, health and wellbeing. We also deliver much needed respite to families and carers.
Rowan provides a range of creative workshops in:
We are open Monday to Friday, 9am to 3pm, for 50 weeks a year. We arrange regular trips to theatres, museums and exhibitions to explore art and culture further.
In 2020 we launched Rowan Rangers, our new forest school which enables students to be creative and connect with nature.
We have a strong social enterprise ethos and accept large and small commissions from individuals and organisations. We also produce artworks and other items to sell online and at exhibitions and events.
In addition, Rowan runs a range of community art classes during evenings and weekends. 
It costs over £600,000 a year to run Rowan.  We receive some income in student fees but rely on fundraising to cover the majority of our costs.
We believe that people living with a disability should have the same choice, quality of life, opportunities and aspirations as others and with your support we shall continue to make that possible.
If you, or someone you know would like to join us – why not become a student at Rowan?
"I love Rowan. It's a very special place to me and it gives me a chance to make art once a week and that helps me relax"
Student artist
"Rowan provides a safe and nurturing environment in which my daughter can thrive and reach her full potential. She has the opportunity to interact with lots of people, without Rowan she would become isolated, lonely and have mental health issues"
Student artist parent
'The care and commitment shown by Rowan staff is truly wonderful and really does make a difference to all of us.'
Student artist parent
"I feel part of the Rowan family and part of a team"
Student artist
"I like coming to forest school because I have made new friends. I enjoy sitting by the fire and singing"
Student artist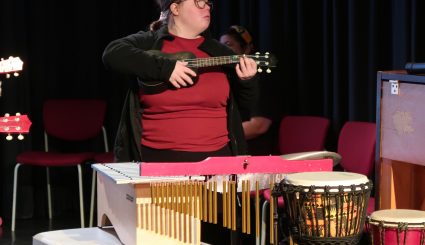 On Wednesday 8 November Rowan music and drama students took to the stage for the first…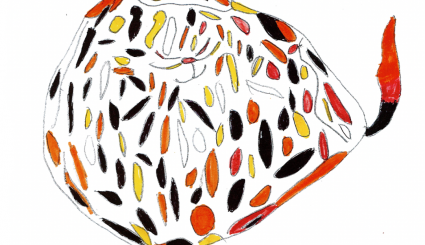 Back in August we announced that Rowan students had been offered the opportunity to create a…