Join us this October half term for holiday fun!
Join us for a week of creativity and meet new friends at our friendly and accessible arts centre. For all the details on the workshops running click on the leaflet below. To express an interest fill out the form or get in touch. We look forward to having you join us!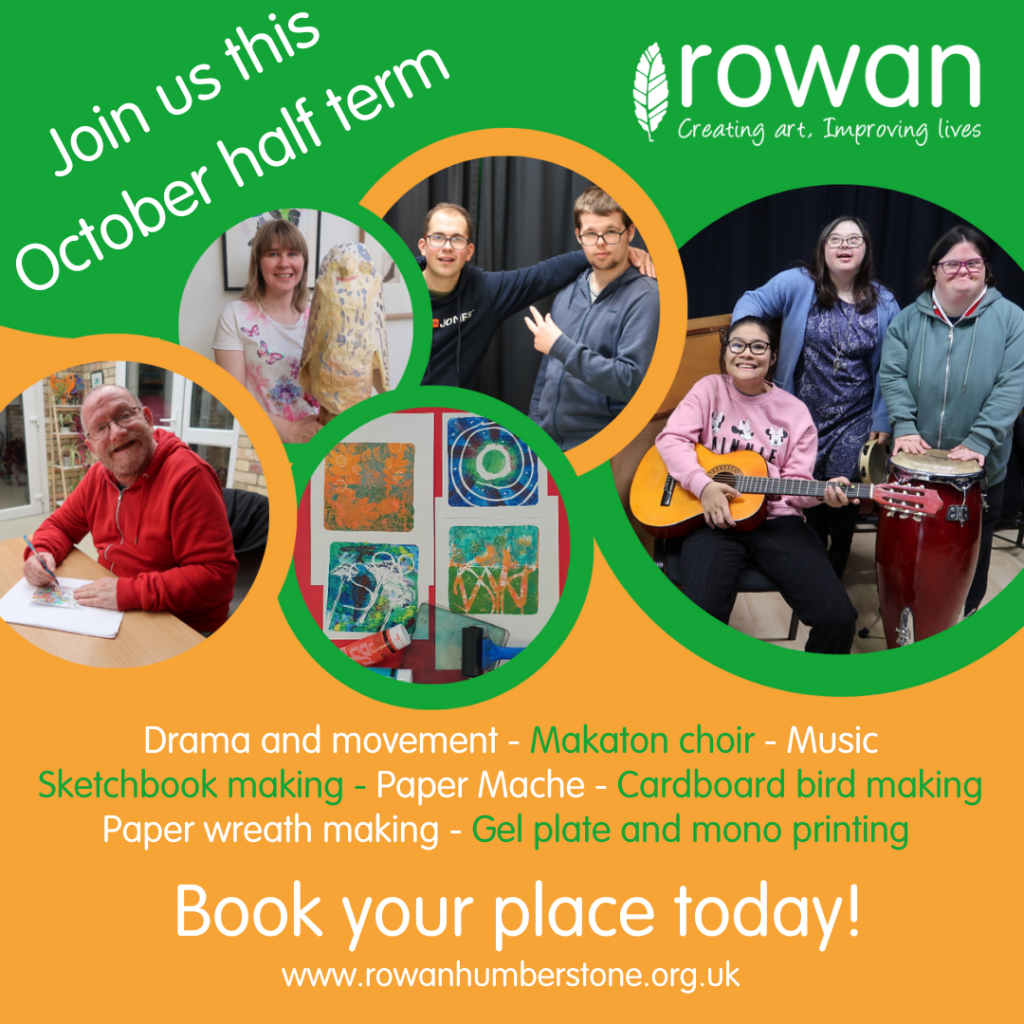 If you would like to know more before booking please contact us on info@rowanhumberstone.org.uk or call 01223 566 027.
Student information and opportunities
Rowan is dedicated to providing a safe and enriching environment where adults with learning disabilities can develop new creative skills, working alongside professional artists.
We are an active part of the art community in Cambridge, taking part in a number of exhibitions throughout the year to showcase and sell our art and crafts. We also stage performances for our music and drama students. 
Our students can take part in a range of creative workshops:
Rowan is open Monday to Friday, 9am to 3pm, for 50 weeks of the year. Weekly half-day and full-day student places are available.
We offer free taster sessions for prospective students, to experience daily studio activities for themselves before making a decision. This enables us to assess a student's needs, how they fit in with the environment and with other students and whether we can meet the needs of a potential student.
Students need to bring a packed lunch, but we offer free tea and coffee.
We do not provide personal care, so if required, a personal one-to-one supporter must accompany the student. The entire Rowan building is wheelchair accessible.
To find out more about becoming a student, please contact 
student@rowanhumberstone.org.uk | 01223 566027 or apply using the form below.

In order to give us a better understanding of your needs please fill the form in as completely as you can…
Other information
Our charges are £59 for a full day and £30 for a half day.
Our morning sessions run 09:00 to 12:00 and our afternoon sessions run 12:00 – 15:00, Monday to Friday. This includes break time. Students bring their own lunch.
Process
Prior to any decision being made to offer a place, you are required to:
Fill in this form as completely as possible and return it to Rowan.
Come and look around the studios / workshops at Rowan.
Participate in four free taster sessions, so that you can experience Rowan activities and meet our staff and other students.
Decision making
We will use all information to decide if we can offer you a place at Rowan – we will keep you informed along the way. We will discuss our decision with you.
If a place is agreed, funding must be in place before you start at Rowan.
You may also be interested in...
Your support makes a big difference!
It costs over £600,000 a year to run Rowan. Can you help us?