Share the inspiring Rowan experience with family, friends and colleagues! 
Are you looking for a fun children's party activity, or organizing a crafty night with friends or an unusual hen do? Perhaps you would like to offer your colleagues a mindful and inspirational staff outing?  
Rowan's group event package offers you a fun 2-hour creative session with one of our specialist tutors. The activity will take place in our well-equipped workshops, and you'll have access to our bright open-plan kitchen and sitting area for drinks and snacks throughout your visit.  
For children's parties, the minimum age is 8yrs. In some cases, we may be able to provide themed activities, such as Frozen or dinosaurs (please ask for more info). The craft activity is specifically designed for the children, so adults are free to enjoy a quiet drink in the kitchen sitting area or the garden during the session. 
Our spaces are available for bookings on Saturdays and Sundays, or on weekday evenings between 5-7pm (not on Thursday during term time). Please make sure to book at least 3 weeks in advance. 
The group event package includes room hire, a qualified tutor and all materials needed for the session, an event manager to make sure everything runs smoothly, and unlimited tea and squash. Our workshops will comfortably accommodate a group of up to 8 people.  
You're welcome to bring your own snacks, drinks, or birthday cake. Adult groups can also bring alcoholic drinks. 
Group event package 1 
Standard – up to 8 people
Price: £220
Choose from our range of craft activities, for example: 
Papercrafts: collage, card making, origami

Printmaking: Lino
Woodwork: constructing sculpture, table runner, coasters                               or wall art with pieces of wood
Macrame
Drawing
Watercolour/ink painting
2D design to 3D sculpture in plaster or paper mache
Textile: simple bag design
Flower arranging

 
Group event package 2 
Ceramics – up to 8 people
Price: £250
There are 2 options for a Ceramics session: 
make your own small ceramic objects, adding minimal colour; 

 

or create an elaborate painted design on a pre-made ceramic object. 

 
Either way, after your workshop the objects will need to be glazed and fired in our in-house kiln to make them sturdy and dishwasher/microwave safe. You'll be able to pick your creations up after about 4 weeks. We will notify you once they are ready. 
To discuss this or to book please contact us on luce@rowanhumberstone.org.uk.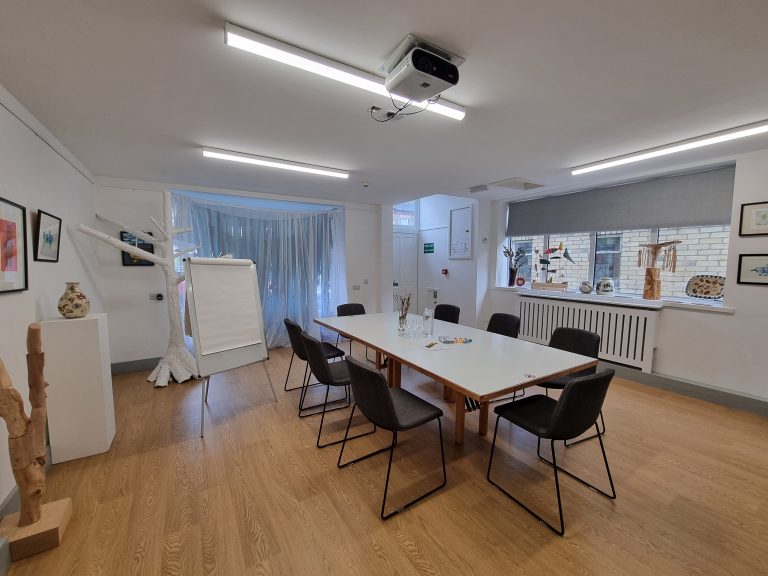 You may also be interested in...